Create Powerful Serverless Applications with Automated Machine Learning
Achieve pre-trained automation models through Automated Machine Learning in your serverless applications built using Catalyst Serverless Platform.
Start Building for Free
Pay nothing till you deploy the project to productionGet a free, full-featured SandboxGet up to 125 million invocations free*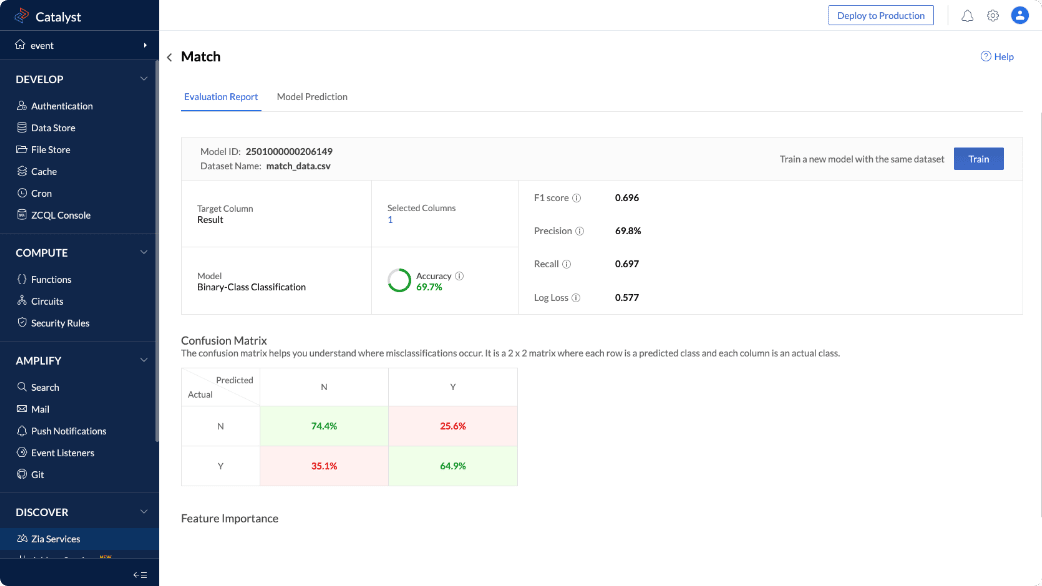 Pre-train, predict and perform through Automated Machine Learning
Catalyst AutoML is an advanced Machine Learning capability that analyzes data and predicts the outcome automatically, using Catalyst serverless platform. You can train models in AutoML with any data associated with your application and achieve predictive analytics.
The automated APIs and predictions are achieved through a series of Machine Learning algorithms that are automated on the platform. All you have to do is enter your data, then leave it to the platform to analyze the patterns.
Learn more
Automated Machine Learning Simplified
Solve real-world problems using machine learning models that are automated in Catalyst serverless platform.
Detailed Evaluation Reports

Using the Automated ML feature on Zoho Catalyst, you can obtain a detailed evaluation report of the trained model. The evaluation reports provided by AutoML contains insightful and actionable information, that is different for each model variant based on relevance.

Robust and predictive data models

Using the AutoML in Catalyst, you can build machine learning models with that are easy to deploy within the application. The data can be customized in order to train them according to your goals. This is scalable, robust, and high performing.

Abstract Data Models

The AutoML feature in Catalyst is of great advantage for the non-experts in ML. This means that you need not be a Machine learning expert in order to implement an ML algorithm in a serverless application. You can rely on the platform to train and implement algorithms which are abstracted so that you can focus on the core performance of the application.
Use case
Crafting personalized experiences in serverless applications and microservices
Modern ecommerce stores need to be not only attractive and easy to navigate, but also offer the best customer experience and user engagement. The AutoML feature in Catalyst can help an ecommerce business predict the shopping patterns of users and serve those product suggestions that might truly interest the customer. Delighting customers with a personalized shopping experience can improve engagement and enhance the growth of digital commerce.
This is achieved by the training of machine learning models using AutoML feature on Catalyst.
Learn more
Start your serverless journey with Catalyst
Start Building for Free
Pay nothing till you deploy the project to productionGet a free, full-featured SandboxGet up to 125 million invocations free *
*Free for the first year upon deploying your first project to production and considering single credit operations like Select Query in DataStore and heavy usage pricing