Manage ephemeral data dynamically with Catalyst Cache
Store and retrieve data at high speed from Cache, irrespective of the main data storage component.
Start Building for Free
Pay nothing till you deploy the project to productionGet a free, full-featured SandboxGet up to 125 million invocations free*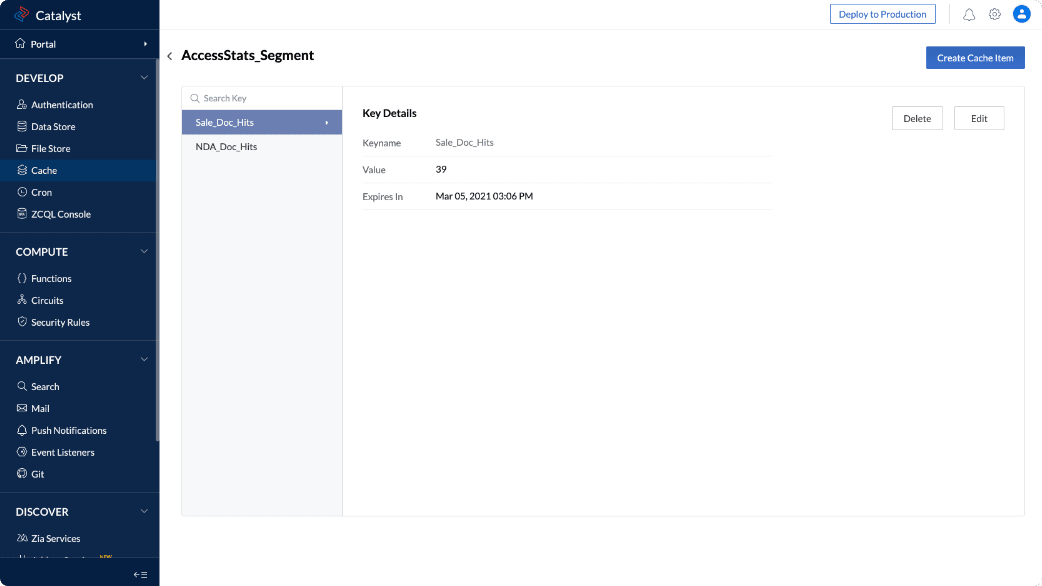 Why Catalyst Cache?
Catalyst Cache can support high-speed data retrieval and data transmission with minimal latency. This will improve your application's performance and offer great user experience.
Learn more
Dynamic in-memory unit
Catalyst Cache is best suited for memory intensive and dynamic data operations.
Autoscale

Enjoy automated scaling of the cache based on the fluctuating requirements of your application. This improves the reliability of the application enormously.

Zero Server Management

You can implement the Catalyst Cache in your serverless application without worrying about the server architecture and management. You need not do a manual partition of servers for setting up the cache.

Fail-safe

Take advantage of Catalyst's automatic failure handling, which will save time from constant monitoring and manual recovery tasks.
Use case
Storing and retrieving frequently used data using Catalyst Cache:
Consider a mobile or web application for an ecommerce brand that involves the storage and access of frequently-used data, such as profile information, static or historic data, or any other data that is accessed often.
Catalyst Cache can be implemented to achieve this fast, seamless, and dynamic data transfer.
Learn more
Get started with Cache in Catalyst
Start Building for Free
Pay nothing till you deploy the project to productionGet a free, full-featured SandboxGet up to 125 million invocations free *
*Free for the first year upon deploying your first project to production and considering single credit operations like Select Query in DataStore and heavy usage pricing