Design and execute seamless business workflows with Catalyst Circuits
Circuits is a serverless function orchestrator for sequencing Catalyst Functions for business-critical applications.
Start Building for Free
Pay nothing till you deploy the project to productionGet a free, full-featured SandboxGet up to 125 million invocations free*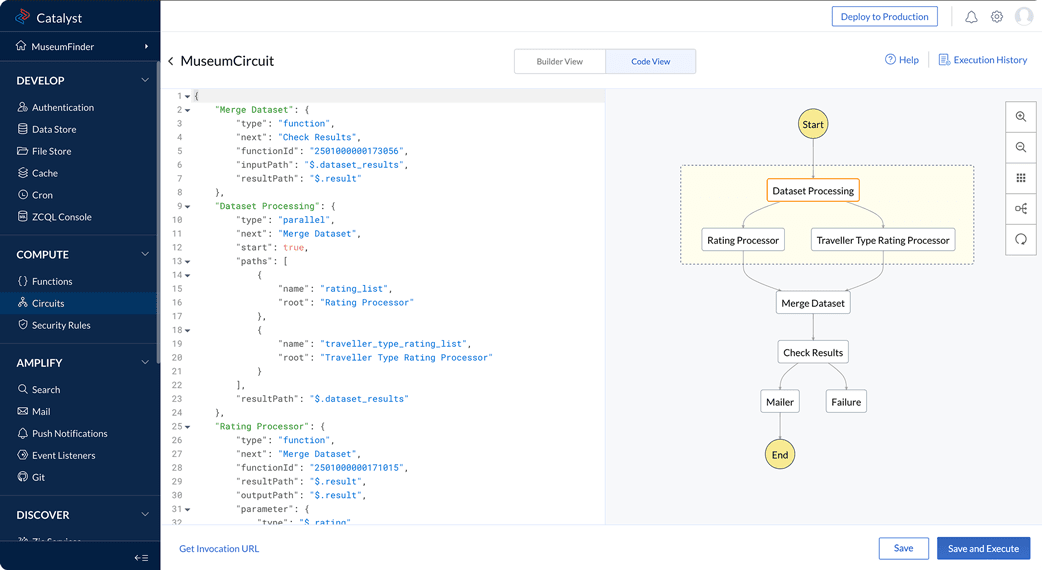 Serverless Orchestration with Catalyst Circuits
Circuits is Catalyst's powerful Functions Orchestration feature that allows you to orchestrate tasks and automate workflows in Catalyst.
Catalyst Circuits will simplify the tasks and automate functions execution in the required sequential or parallel manner by eliminating all complexities.
Watch Video
How does Circuits work?
You can enable concurrent or sequential executions of Catalyst Functions in a Circuit, and define repeatable patterns of activities to achieve desired business outcomes.

Take Advantage of Circuits
Circuits provides the ultimate sophistication of absolute simplicity in coding, by breaking down and executing massively complex workflows in an automated and sequential manner.
Simplified User Experience

The workflow design of a Catalyst Circuits contains various components that can help you orchestrate the logic and data flow in your application or microservice.You can reorganize or swap states, rearrange the steps, provide different inputs, and perform tests for different conditions to achieve desired outcomes.

Seamless Flow

Circuits offers seamless experience of execution of functions by automating application logic in sequential workflows. You can orchestrate and execute applications in your preferred order. Individual components of the application logic can be combined and multiple tasks in Catalyst can be managed simultaneously.

Less code. More convenience

Repetitive tasks involved in retries, sequential tasks, parallel tasks, and timeouts can be offloaded using Catalyst Circuits. A great deal of time and effort can be saved by assigning repeatable actions in Circuits and automated, according to the application logic.
Use case
Circuits for an online store
Consider an online retail store. When the user makes a purchase, Catalyst Circuits will be triggered. The items purchased will be fetched along with amount details and this will be automatically logged in to CRM. The workflow will be such that an invoice will be generated for a successful purchase. If the purchase fails, the Circuits can be triggered to execute the task again after a few minutes. This is a classic case of Catalyst Circuits responding to timeouts and errors, by retrying a failed task.
Learn more
Start your serverless journey with Catalyst
Start Building for Free
Pay nothing till you deploy the project to productionGet a free, full-featured SandboxGet up to 125 million invocations free*
*Free for the first year upon deploying your first project to production and considering single credit operations like Select Query in DataStore and heavy usage pricing