Overview
Features
Use cases
Boost customer engagement with AI-powered bots
ConvoKraft empowers developers across the globe to build cutting-edge chatbots for their business needs. The AI-driven chatbot builder for web and mobile applications enables even developers without AI-expertise to build intelligent bots.
With rising customer expectations, more customers expect round-the-clock service and immediate response time. End-users want engaging human-like conversational experiences and organizations are under pressure to deliver them to retain and win customers.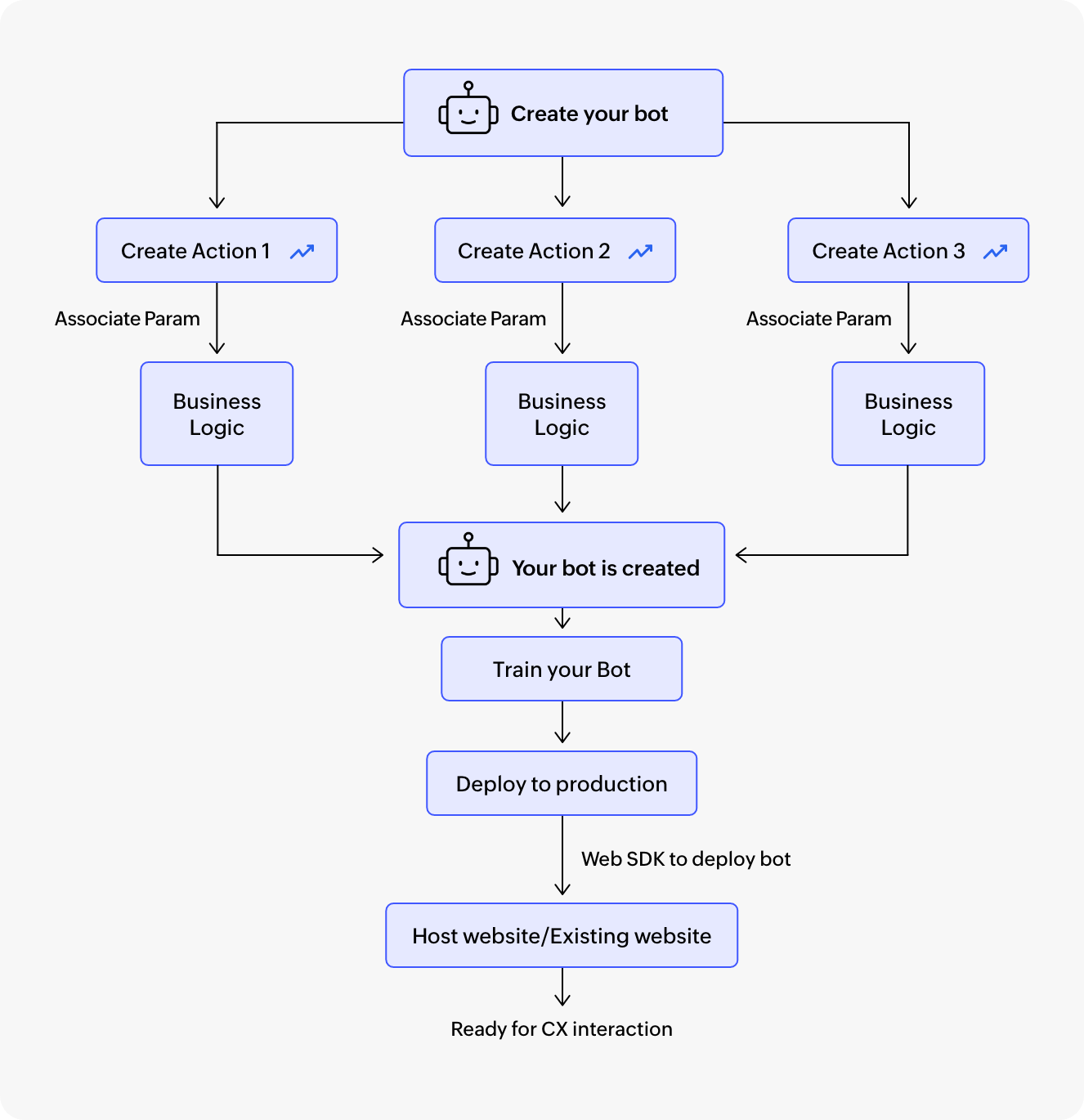 Go beyond building click-based bots with conversational AI
Plug and play bots using prebuilt frontend SDKs
Readily plug and play bots into your web using frontend SDKs for JavaScript. Developers can easily integrate these chatbots with custom application through APIs. This way, you'll have a low-code interface as well as a developer console to build, train, code, test, and deploy chatbots with varying levels of complexity.
Recognize the user's intent in real-time to deliver an unrivaled customer experience
During a chat, there can be multiple user intents present across the transcript. ConvoKraft powers your bot to understand what your user intends to achieve from the input messages and accurately replies back. For this, ConvoKraft has the natural language understanding (NLU) capability to comprehend the messages and respond with human-like conversations.
Advanced information extraction techniques for unstructured data
Leverage ConvoKraft to extract actionable data in a structured format from unstructured user input. For example, when a user says, "schedule a callback at 3 PM tomorrow," the bot understands that the user is trying to schedule a callback on the next day at 3:00 in the afternoon. This information can be passed on to your booking software's API to schedule an appointment.
Try ConvoKraft
A NLU-powered to make customer service seamless.
Use cases
Customer engagement
Automate booking
Customer support
Improve customer engagement through 24/7 live chat
Assist customers round-the-clock by answering their questions through a conversational interface. By configuring actions and answers, you can help the bot understand customer support issues, provide relevant information, or connect the customer with a human agent. You can also suggest some followup actions based on the most recent inquiry.
Automate bookings and schedule appointments
A salon or medical practice can use ConvoKraft to build a bot that handles scheduling. With the help of Catalyst Functions, the bot can understand user input to book appointments, check availability, and confirm reservations.
Improve customer satisfaction through better support
A bot that interacts with potential customers and helps with the sales and marketing process. For example, the bot can be programmed to answer common product or service questions, provide pricing information, and even process orders.