The Most Simplified Data Storage in Serverless Computing
Data Store from Catalyst is the ultimate cloud-based relational database management system for all your serverless computing needs.
Start Building for Free
Pay nothing till you deploy the project to productionGet a free, full-featured SandboxGet up to 125 million invocations free *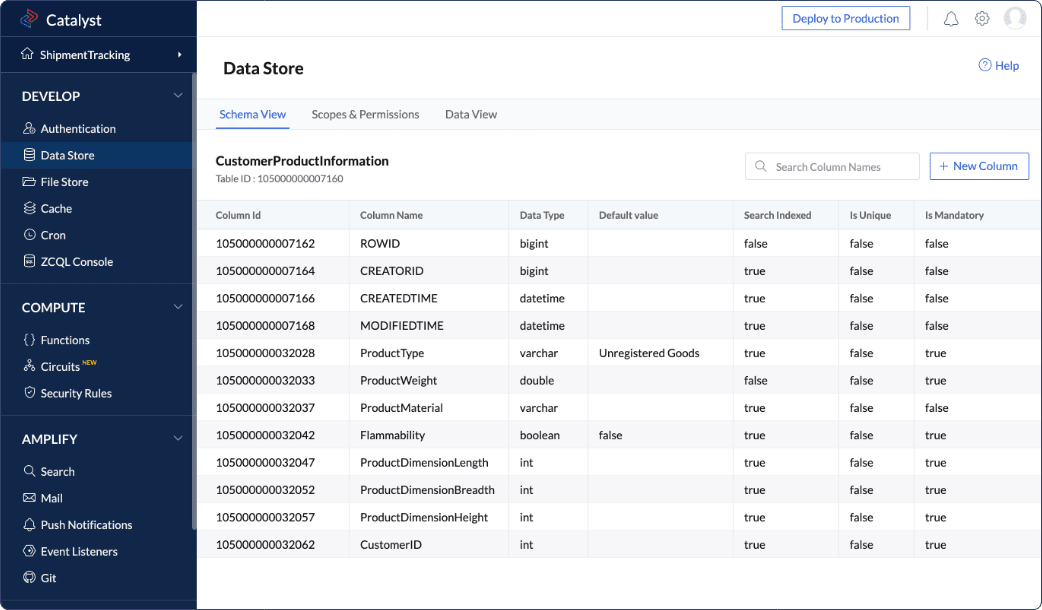 Catalyst Data Store
Catalyst Data Store is a Serverless Relational Database system that stores the data for all your serverless applications on Catalyst. You can store, retrieve, and manage any data consignment for your serverless application without having to worry about provisioning the database. All you have to do is sign up and start building your application on Catalyst.
Learn more
Less Code. More Data trove.
Catalyst empowers its users with an Integrated Database management feature to mitigate the complexities in storage and deliver the real benefits of serverless computing.
Simplified DB Administration

You can build and run applications on Catalyst without having to provision and manage Database servers, separately. Once you start using Data Store on Catalyst, we'll take care of the entire database administration while you focus on creating powerful serverless applications.

Simplified Access Control

Perform multiple levels of access control based on the defined scope, which includes operations such as user based, organization based, and global mode. Once you assign access control for a specific requirement, Catalyst will take care of applying the scope and filter data accordingly.

Bulk Operations

You can fetch and upload any amount of bulk data to Data Store. Easily perform data analytics with any analytical platform using large volumes of data.

Easy Querying

The Zoho Catalyst Query Langauge (ZCQL) enables complete control over data processing and handles specific requirements. This will enable you to query requests on Catalyst. You can create any number of tables and manage them in the console using the Relational Data Store.
Case study
Powerful and Secure Data Storage and access with Catalyst
Catalyst helped BuildHR achieve powerful data-driven management for its customers' sales teams. The project was built to help students from across the globe access an online evaluation tool. Data Store on Catalyst was used to save student details, evaluation questions, results and also categorically add data based on various conditions on Catalyst.
Access the case study
Start your Serverless Journey with Catalyst
Start Building for Free
Pay nothing till you deploy the project to productionGet a free, full-featured SandboxGet up to 125 million invocations free *
*Free for the first year upon deploying your first project to production and considering single credit operations like Select Query in DataStore and heavy usage pricing