Secure and Integrated Storage System for Serverless Computing
File Store is Catalyst's reliable, scalable, and secure file storage management feature that works in coherence with other serverless components of the platform.
Start Building for Free
Pay nothing till you deploy the project to productionGet a free, full-featured SandboxGet up to 125 million invocations free *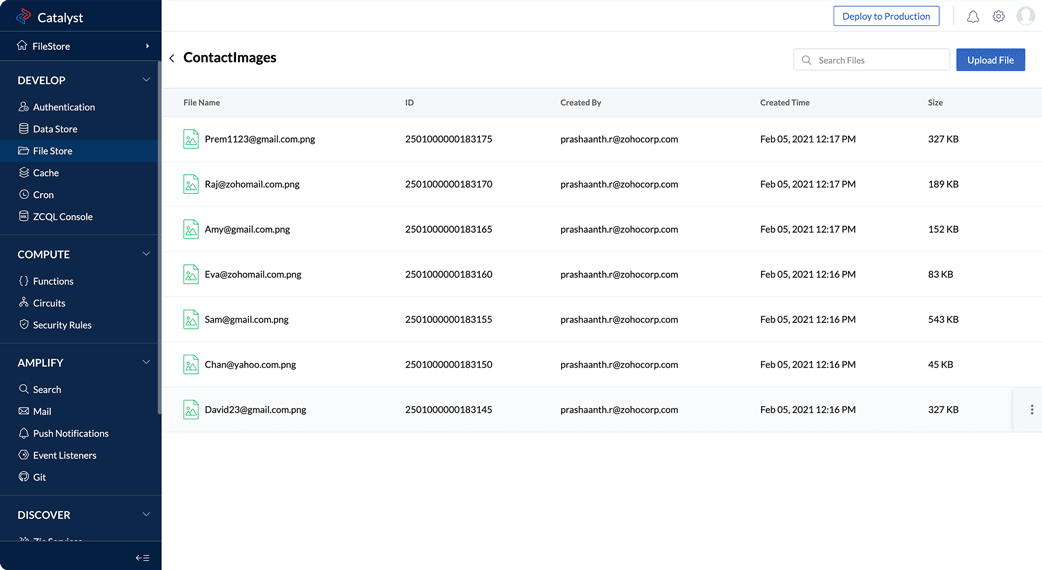 Secure and hassle free way to store your files in Serverless Platform
Catalyst File Store is the ultimate storage and management solution for image files, videos, and other user data files on the Catalyst Serverless Platform. This is a great way to create, update, and delete folders, as well as to upload files, add them to folders, or delete any other file format associated with the application.
Learn more
File Storage, made secure and reliable.
Robust and integrated serverless storage solution for your applications on cloud.
Integrated Storage System

Catalyst empowers its users with an Integrated File Management feature to mitigate the complexities in storage of image, video, PDFs, and other non-text files to deliver the real benefits of serverless computing.

Ease of use

File Store lets users organize and store files in a single, unified repository. You can perform various functionalities, from creation to deletion of folders, and also gain insight into granular storage metrics such as space utilization, size of folder, and number of files in each folder.

Simplified Administration

You can build applications on Catalyst without provisioning a server from your end. Once you start using File Store on Catalyst, we'll take care of the complete backend operations while you focus on creating powerful serverless applications.

Access Control - Simplified

You can perform multiple levels of access control, such as user-based, organization-based, and Global mode. This will save you the time and effort involved in custom controls.
Use case
Uploading files by users in Banking Industry
The user applications associated with banking services allow them to upload and maintain certain documents for verification purposes. These files that get uploaded onto the cloud through internet banking portals and internet banking mobile applications can be stored, managed, and retrieved using the File Store feature on Catalyst.
Learn more
Get Started with
Catalyst Serverless Platform
Start Building for Free
Pay nothing till you deploy the project to productionGet a free, full-featured SandboxGet up to 125 million invocations free *
*Free for the first year upon deploying your first project to production and considering single credit operations like Select Query in DataStore and heavy usage pricing