Overview
Features
Use cases
Empowering ML teams to fuel AI application development
Create powerful custom ML models with complete control over the pipeline and deliver efficient business solutions quickly. Enterprise-grade capabilities with seamless collaboration and a no-code approach for pipeline building ensures even developers with minimal knowledge of handling data can use QuickML effortlessly.
A model development lifecycle guides all the activities of ML model development from inception through end. Zoho Catalyst QuickML capabilities include:
1. Data preprocessing
2. Model Training
3. Evaluate the model
4. Deploying the model
5. Serving the model
6. Monitoring the model

Powered with end-to-end Machine Learning Lifecycle capabilities
Drag-and-drop pipeline builder
Leverage the drag-and-drop browser editor to construct the ML pipelines with multiple or single-stage operations. Plus, you can save all the pipelines built for future reference. As the pipelines are versioned, tracking the improvements and degrades in model building for each version is effortless. Stay production-ready; pick any model version and push them to production when needed.
Powered by state-of-the-art ML algorithms
Power your ML pipelines with Zoho's AI capabilities (Zia) and use supervised learning models. We have democratized ML without writing any code so that you can train the models using classification and regression algorithms like AdaBoost, CatBoost, linear regressions, decision-tree algorithms, and more from a single platform.You can also pick from built-in operations for encoding, transformation, imputation, and feature generation.
Intuitive usage graphs to optimize ML pipelines
Track the time-based resource usage statistics in pipeline execution with intuitive usage graphs that provide stage-wise execution details. Furthermore, you can zoom in to view chart-based editors to perform drilled-down analysis. Monitor the performance of each pipeline execution using metrics like execution time, average memory usage, average disk usage, and average CPU usage. You can also obtain runtime details of various pipeline runs to pick the most efficient pipeline.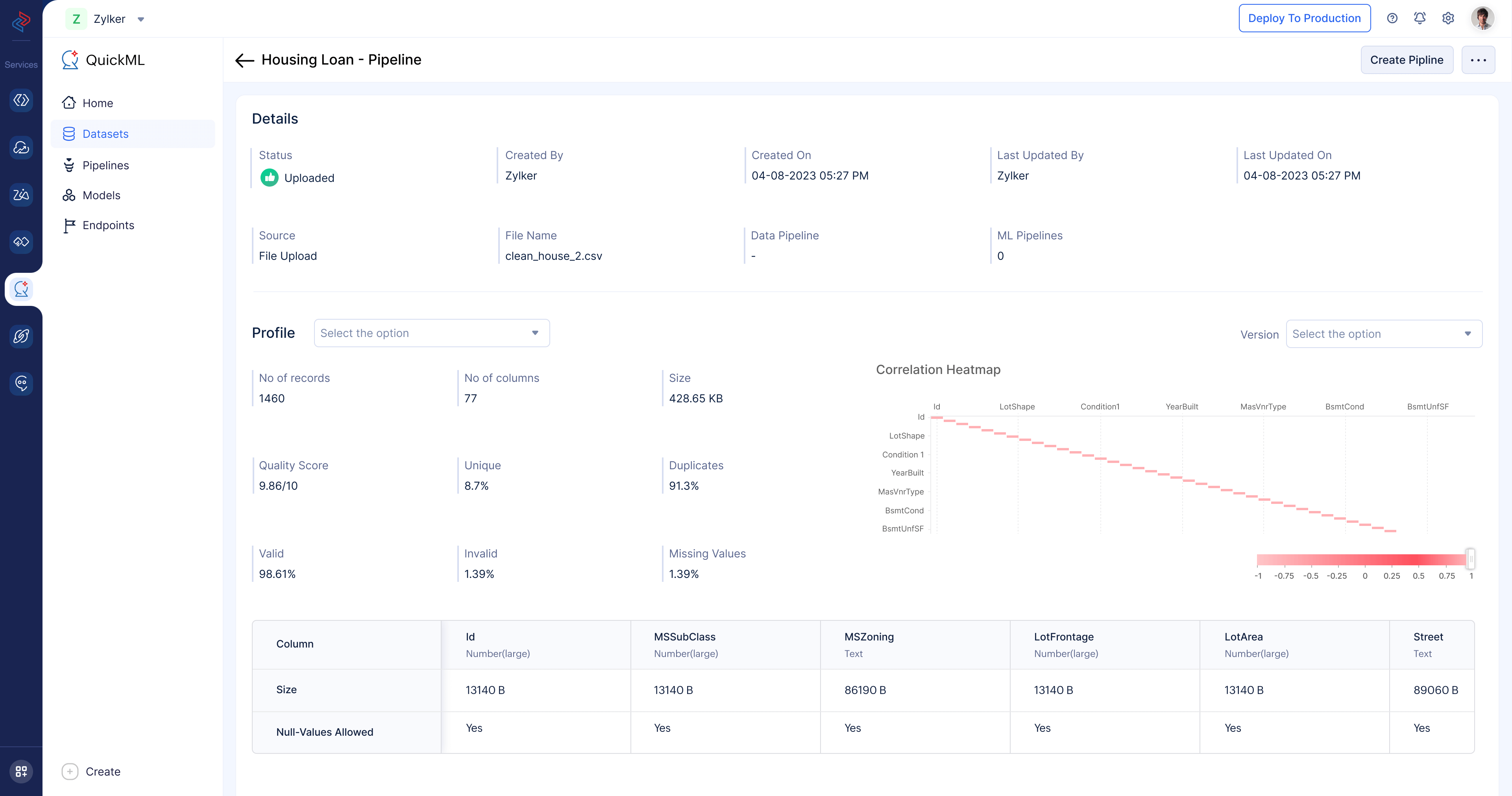 Discover critical insights from data across sources
Ingest data from Zoho services like CRM, Recruit, Bigin, or third-party services like AWS S3, Google cloud storage, Azure blob storage, or your local file system to QuickML using cloud-native approaches and asynchronous design.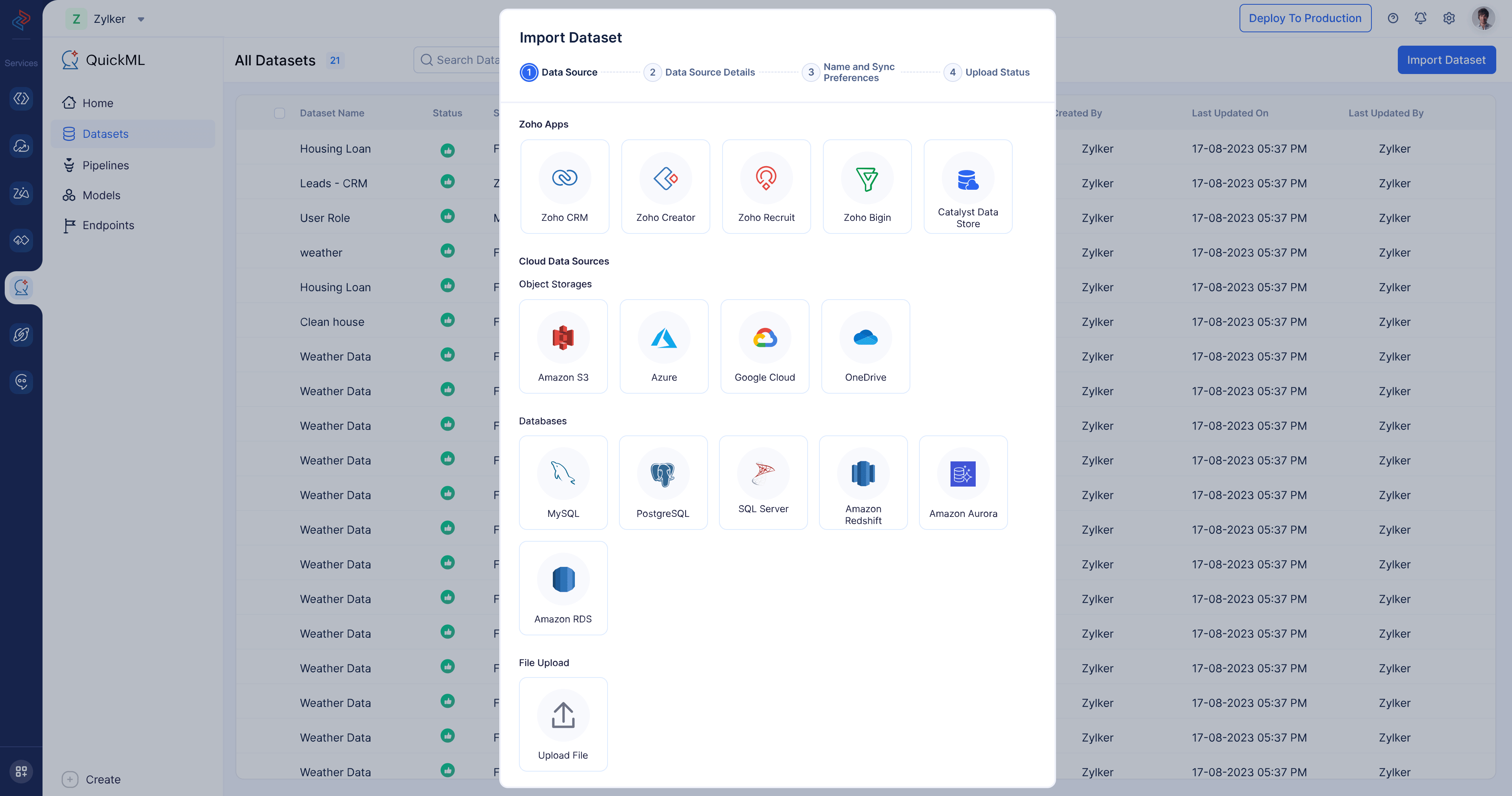 Visualize datasets and spot trends quickly
Visualizing datasets empowers you to analyze your data and understand the relationships between variables, enabling you to identify trends and outliers. Create customized visual charts from an extensive selection of chart options, including bar charts, pie charts, stacked area charts, and more. These visualizations help you gain insights into the distribution and composition of your dataset to build efficient ML models.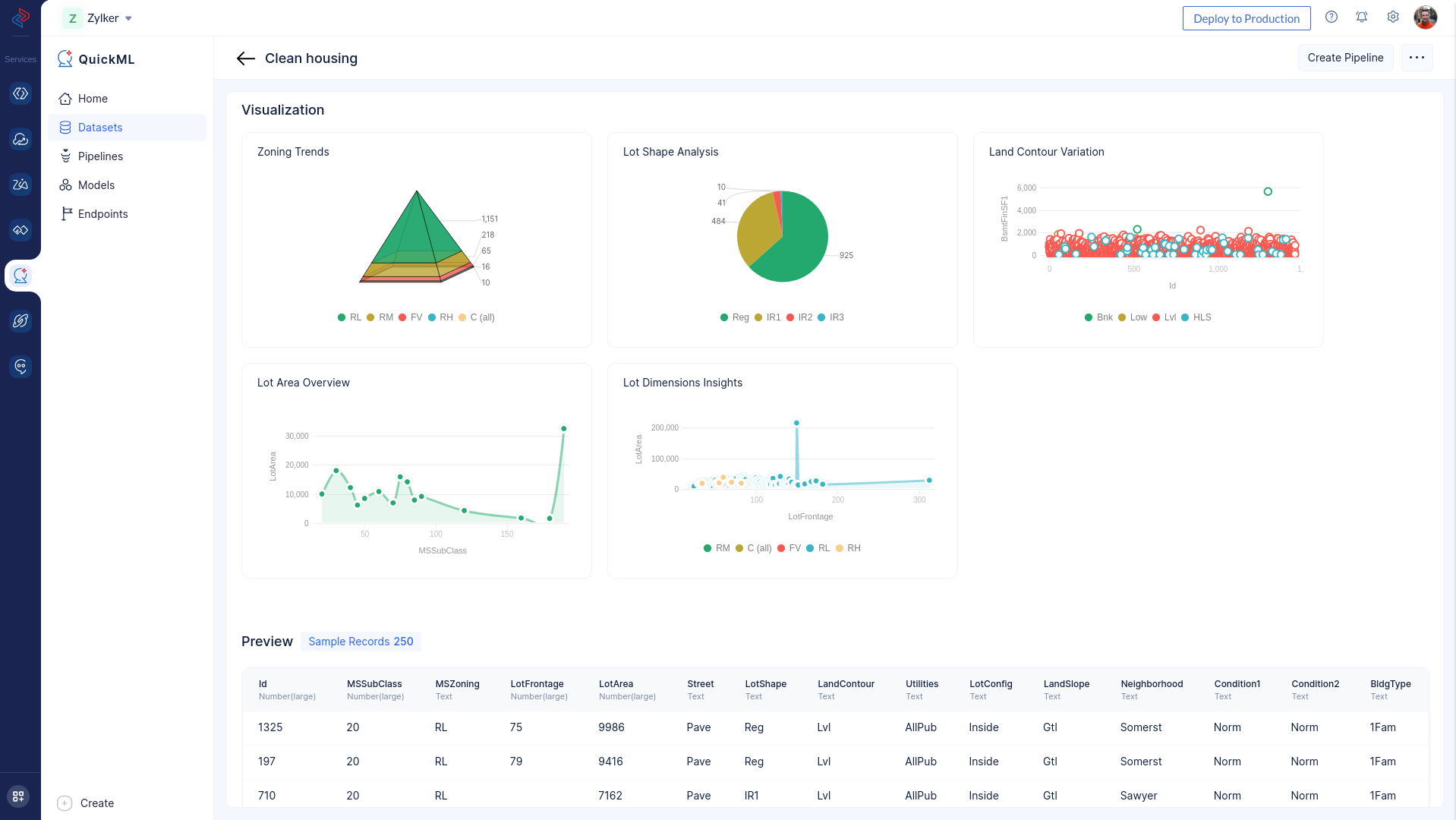 Try QuickML
Create cutting-edge machine learning models for predictions and forecasting.
Use cases
Demand Forecasting
Fraud Detection
Prospect Identification
Demand Forecasting and anomaly detection in website traffic
A shop owner can predict a product's demand in the upcoming months and can also detect anomalies like spikes/drops in the website traffic.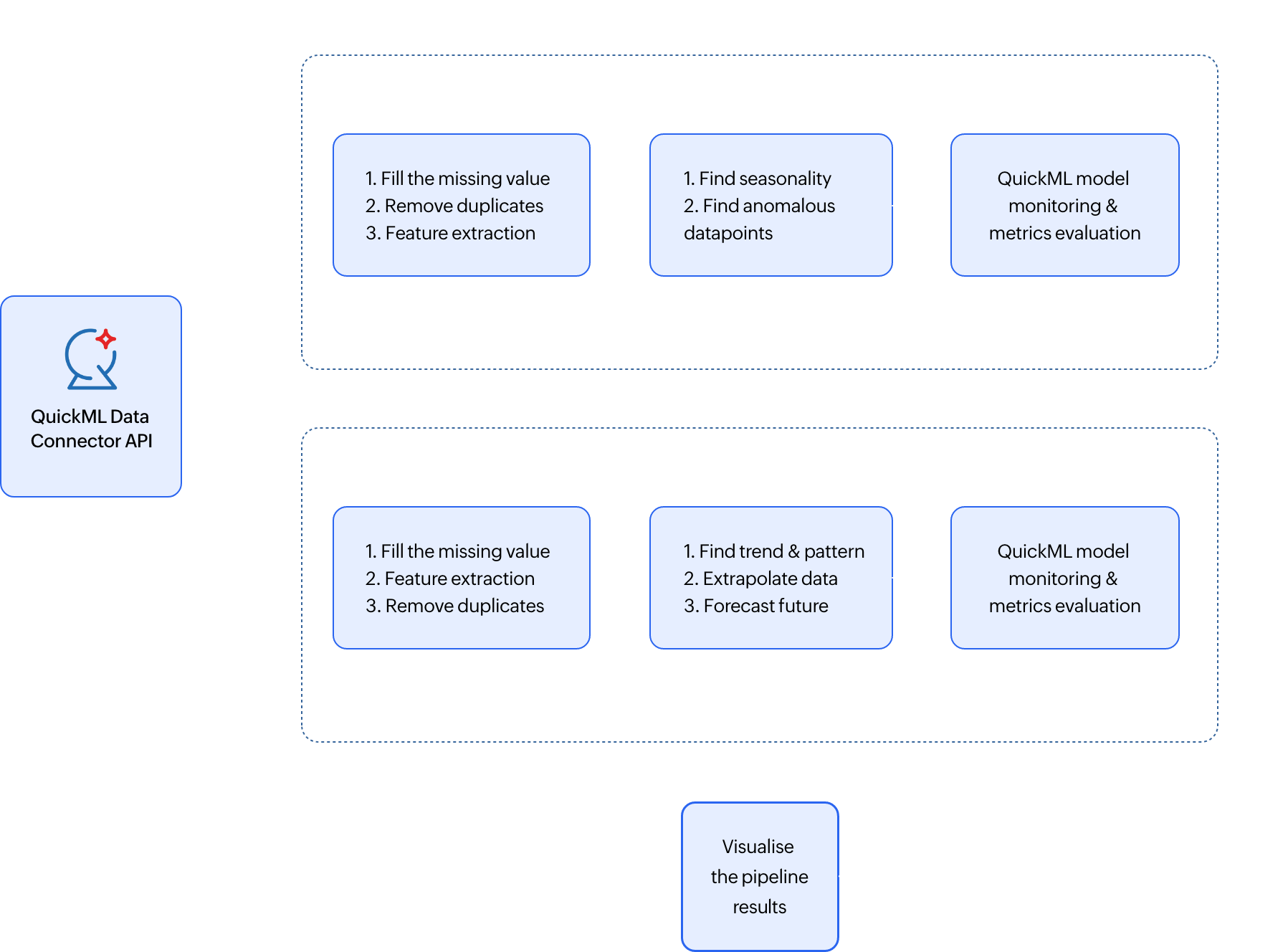 Fraud Detection
Detect frauds in financial transactions to pinpoint fraudulent activities such as identity theft, credit card fraud, and online banking fraud.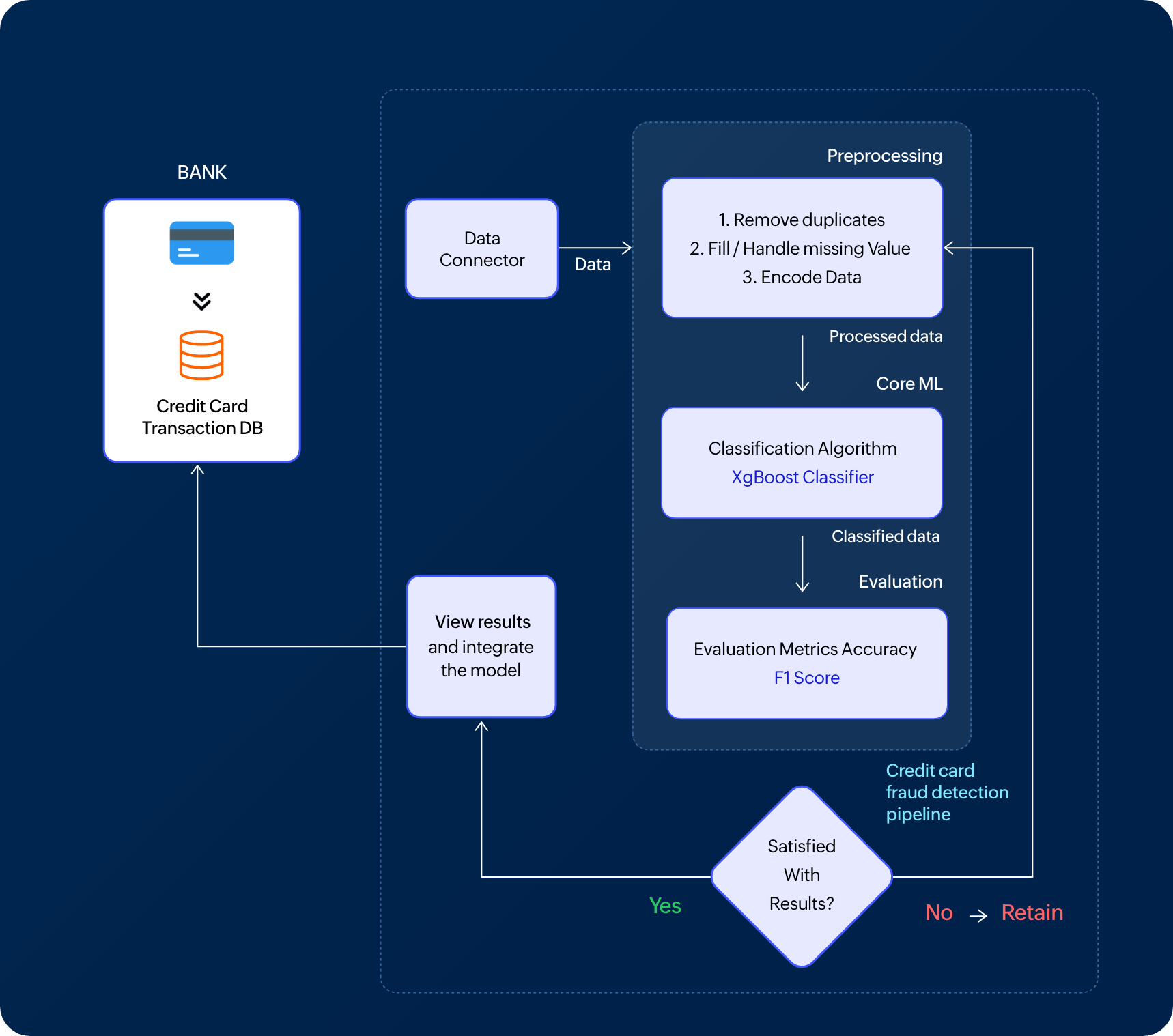 Prospect Identification
ML models can identify prospects based on their behavior, like web pages visited, session duration, clicks, and more. By analyzing the historical characteristics of people, the ML model can learn the difference in behavioral patterns between potential prospects and the rest of the flock.