Leave the User Authentication to us, while you focus on building great business logic
Implement the in-built User Authentication feature on the Catalyst serverless platform.
Start Building for Free
Pay nothing till you deploy the project to productionGet a free, full-featured SandboxGet up to 125 million invocations free *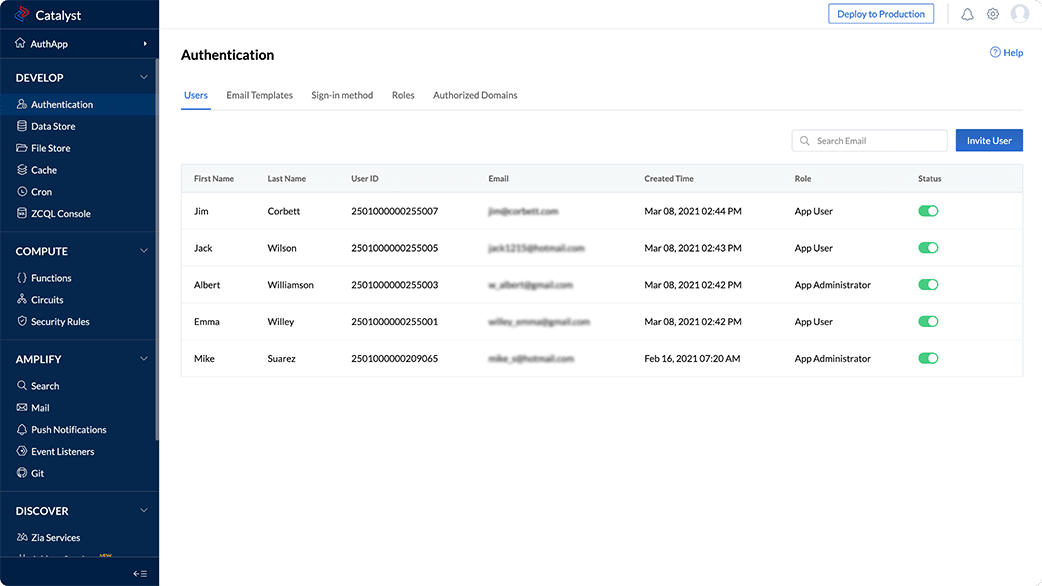 Ensure authentic logins and protect your data
The User Authentication feature on Catalyst enables you to add, remove, and manage end users through simple integration. You can configure accounts and roles, as well as manage sign-ins and authentication directly from the Catalyst console.
Learn more
User Authentication made simple
The integrated authentication feature will help you create secure applications and services with minimal effort and time.
Simple Integration

You don't have to write lengthy codes to authenticate users. Instead, you can integrate the built-in authentication feature to enable your preferred authentication type.

Authentication options

Catalyst provides you with a variety of User Authentication options. You can have authorized domains for cross-origin-resource-sharing and embedding your application in other web pages.

Enable Google Users

Using Catalyst User Authentication, you can permit Google users and Zoho users to sign-in with their accounts.
Use case
A web application used by employees and HR at an organization
Consider a HRMS portal with an admin console and employee portal. The HR or admin console can only be accessed and used by the authenticated users. Similarly, employee portals can be accessed by each employee based on their user or employee ID and will remain private to those employees.
However, if the HR needs to access an employee's details from the employee portal or upload forms on their behalf they can be allowed to do so by providing role based authentication. The employees can also login using their credentials to view certain web pages for which they've been authenticated.
Learn more
Simple, hassle-free and diverse User Authentication with Catalyst
Start Building for Free
Pay nothing till you deploy the project to productionGet a free, full-featured SandboxGet up to 125 million invocations free *
*Free for the first year upon deploying your first project to production and considering single credit operations like Select Query in DataStore and heavy usage pricing