Build and host reliable and secure serverless applications with Catalyst Web-Client Hosting
Develop world- class web applications and host them securely on Catalyst serverless platform.
Start Building for Free
Pay nothing till you deploy the project to productionGet a free, full-featured SandboxGet up to 125 million invocations free *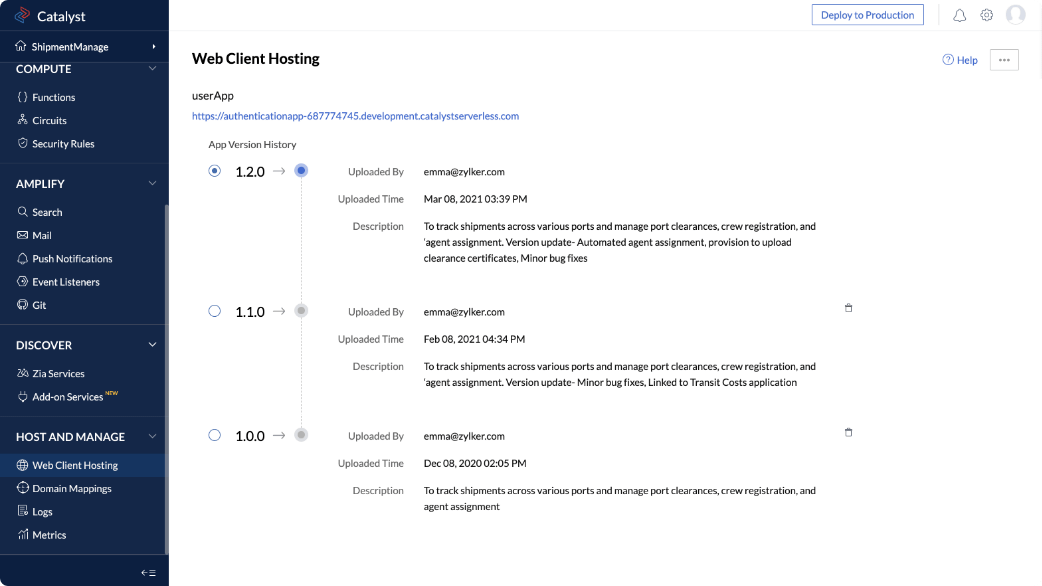 Seamless hosting for your serverless applications
Create both static and dynamic applications on Catalyst and leave the complete server management to us.
Learn more
Fast, Secure and Scalable
Web Client Hosting on Catalyst will ensure smooth consistency in your web application with maximum efficiency and effectiveness.
Secure hosting

Take advantage of the most secure SSL-certified hosting environment for your applications.

Minimal latency

Serve content at the speed of your business. Catalyst ensures minimal latency, focusing on the swift and secure delivery of content anywhere across the globe.

Heterogeneous hosting

Structure your applications using any type of coding language from HTML to CSS, any framework or JavaScript library in Catalyst.

Change in a click

You can deploy an updated version of your application or roll back to the older version in a single click on Catalyst hosting.

Auto scaling

Enjoy consistent app performance irrespective of the fluctuations in load through Catalyst's automated scaling.
Case study
KDG builds business-critical customer feedback application using Catalyst
The Catalyst serverless platform was used to host and run a simple, yet important, client feedback application aimed at improving customer service. An authenticated admin dashboard was developed to analyze and discover trends in the feedback according to multiple parameters, along with custom KPI dashboards using advanced web client hosting provided by Catalyst.
Access the case study
Host and scale your dream applications with Catalyst serverless hosting
Start Building for Free
Pay nothing till you deploy the project to productionGet a free, full-featured SandboxGet up to 125 million invocations free *
*Free for the first year upon deploying your first project to production and considering single credit operations like Select Query in DataStore and heavy usage pricing