Catalyst Projects and the Console
Table of Contents:
You can begin your Catalyst application development from the Catalyst console. Sign in with your Zoho account, if prompted to do so. You will then be redirected to this index page in the console.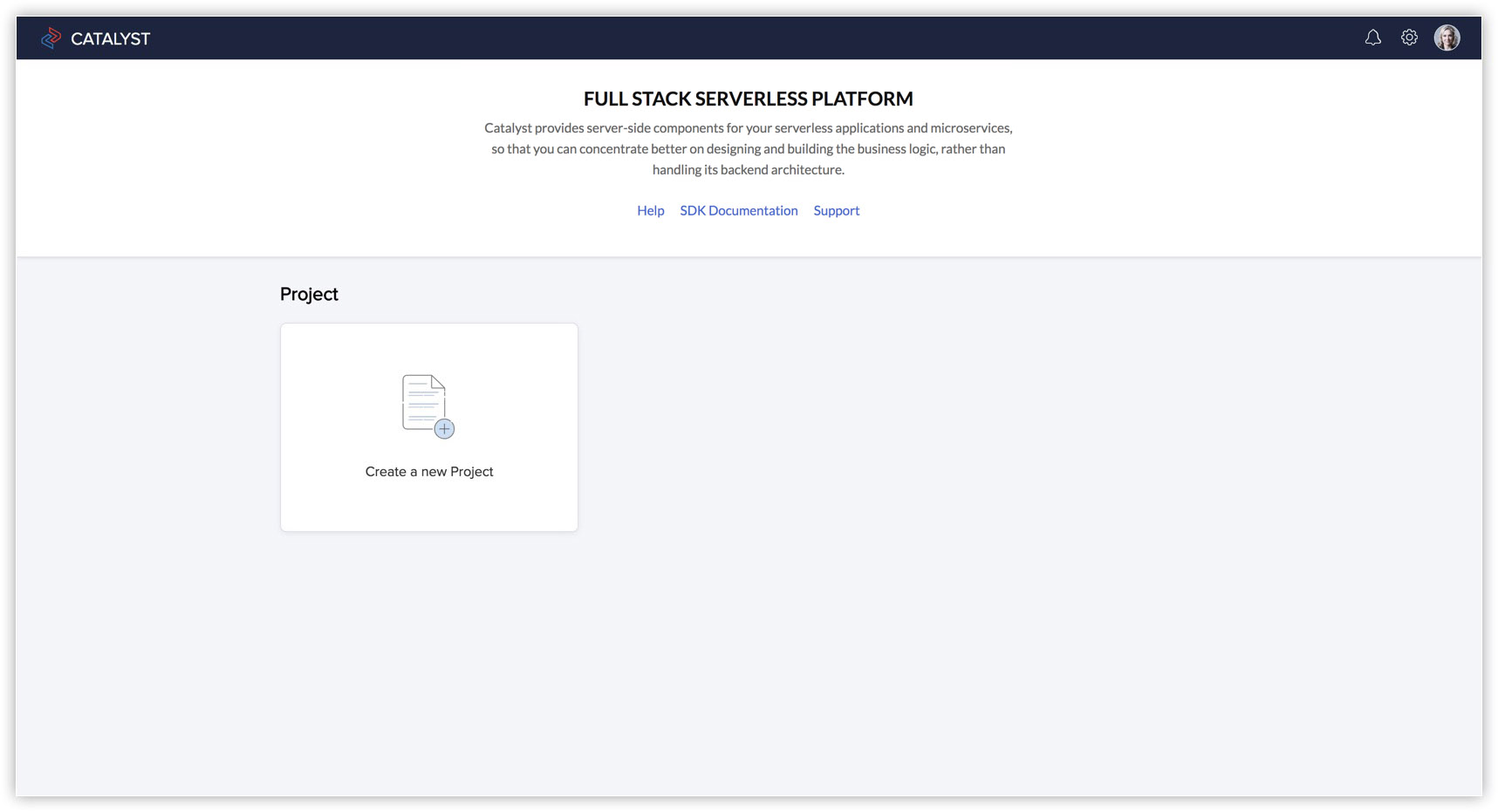 The index page lists all Catalyst projects that you create in your Catalyst account, and enables you to create new projects. The notifications and settings icons in the top-right corner display the notifications and general settings that are common to all your Catalyst projects. You can access the project-specific settings from inside a project.
Before you begin working with Catalyst by creating a project, you must remember the following points about Catalyst projects:
You can create one application of each platform in a single Catalyst project. That is, you can create a web app, an Android app, and an iOS app in a single Catalyst project.
When you create a project, it is not platform-specific. You can download the SDK for a platform and include it in your application building process later. 
All apps in the same project can access the same backend data from the Catalyst components, such as the Data Store, File Store, functions etc. The features configured in Catalyst apply to all apps in the same project, and you can view common analytics data. This enables users to access the same data while switching between different platform versions of the app.
If you intend to build different apps that do not share the same data or functionalities between them, you can create individual projects for them.
When you create a new project, a unique 

Project ID

and a 

ZAID

will be generated for it. You can view them from the Environments Settings section.
You can develop and build the apps in your project in the Development environment, and deploy them to Production by deploying your project.
You can also create a project from the Catalyst CLI by executing 

catalyst init

. However, you cannot create your first ever Catalyst project from the CLI. You can only do that from the console. Refer to the CLI documentation for more information.
Note:
You can create upto 50 projects in your account in the
development environment
. You can request Catalyst for an increase in this limit by contacting our support at
support@zohocatalyst.com
. We will address each request on a case-by-case basis. There are no upper limits for project creation in the production environment.
Let us now create a Catalyst project from the index page in the console:
Click Create a New Project.

Enter the project's name in the pop-up window.


Note: The project name can only contain alphanumeric characters, underscores and hyphens. Do not include white spaces or other special characters in it.

Read and accept Catalyst's terms of service.
Click Create.
Once your project is created, click Access Project to open it.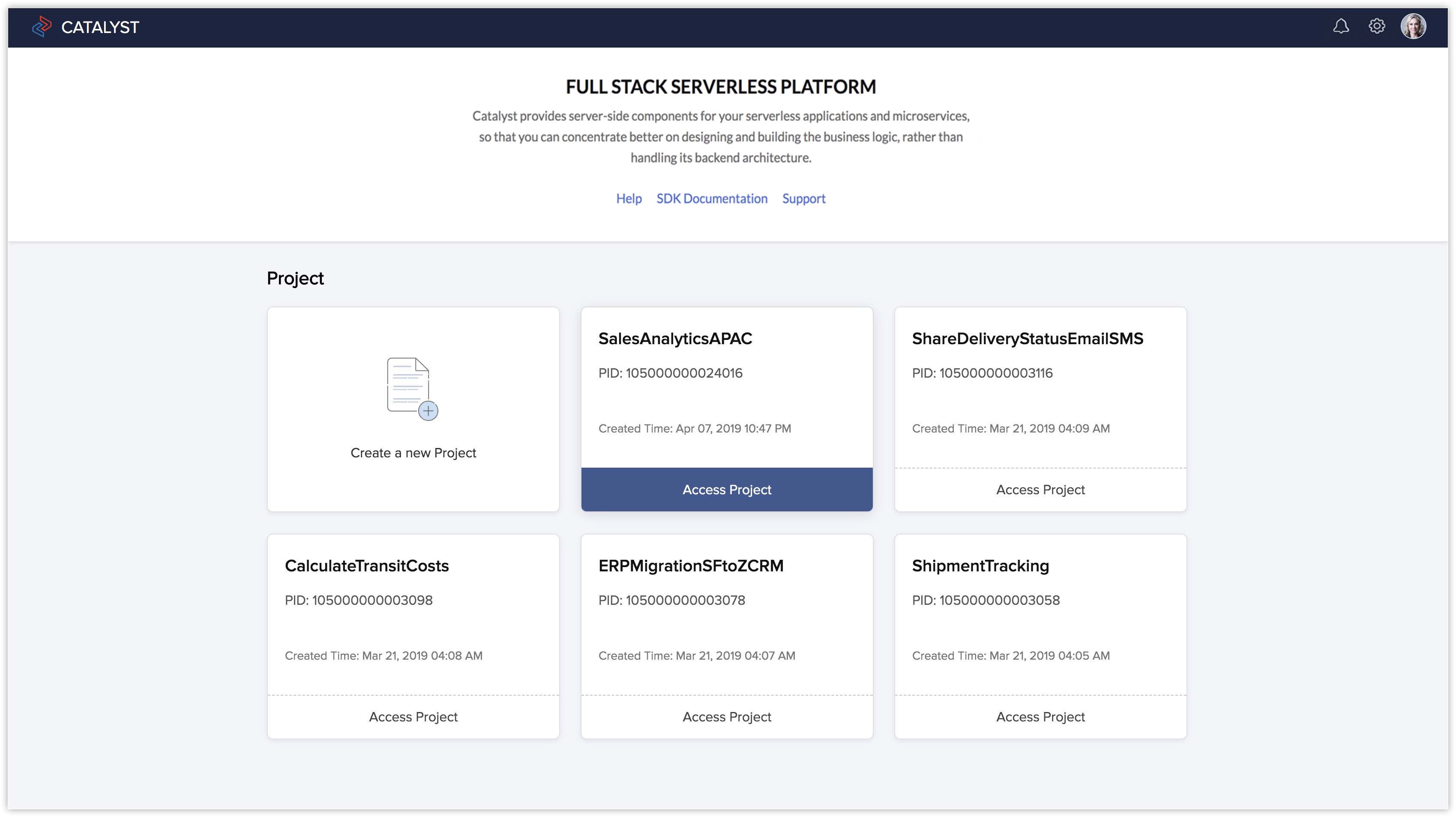 This will redirect you to your project's page where you can now access your project's components, settings, and other developer tools. 
After you open your project, you will be redirected to the project's dashboard. You can access the Catalyst components from the left menu grouped into the following sections: Develop, Compute, Amplify, Discover, Host And Manage.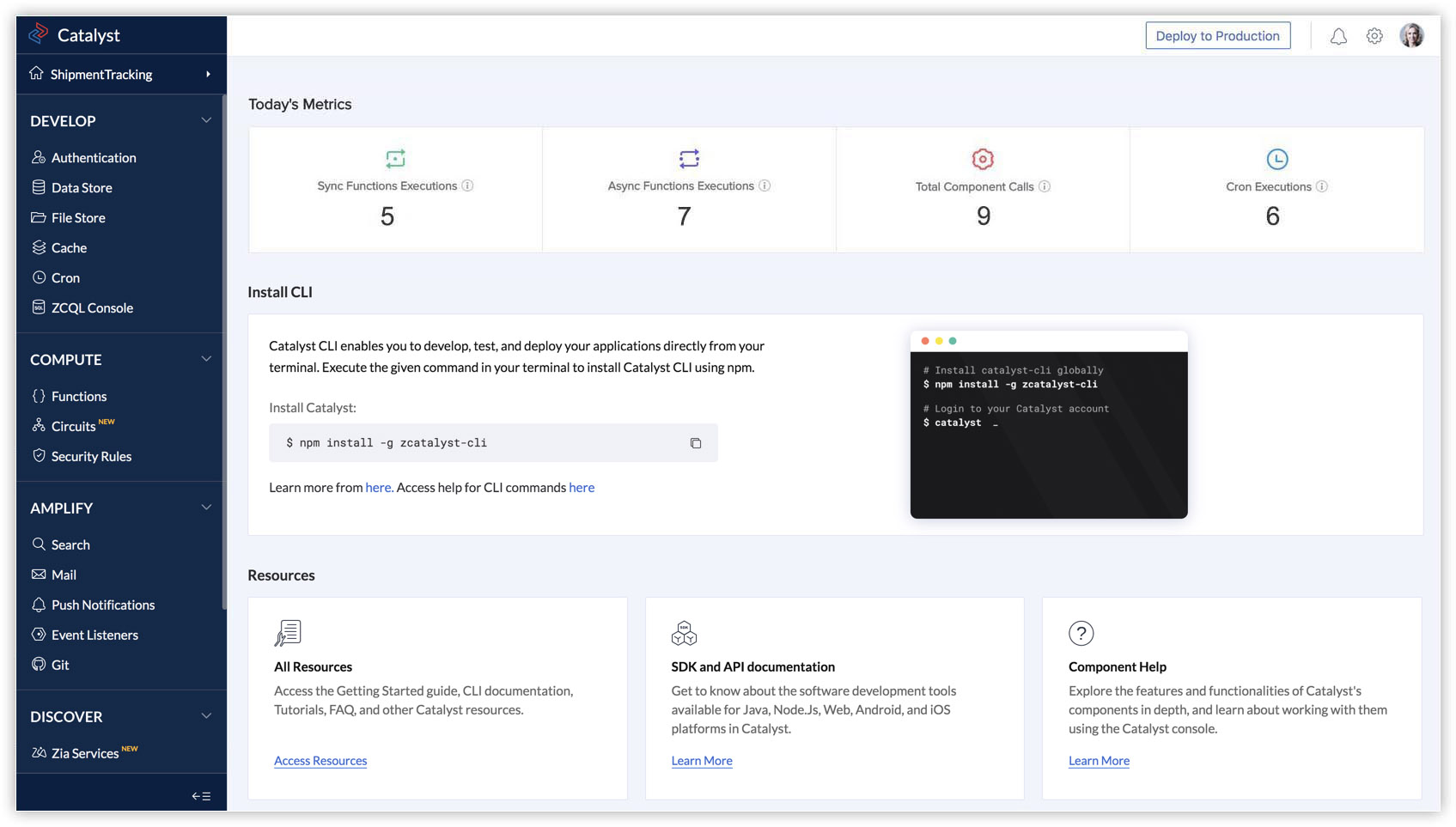 You can click on any of the components to open them, and you can always return to the project's dashboard by clicking on the project's name at the top. You can learn about all Catalyst components in detail from the Component Help section in our resources.
You can also navigate to other projects by clicking on the expand button next to your project's name and opening them.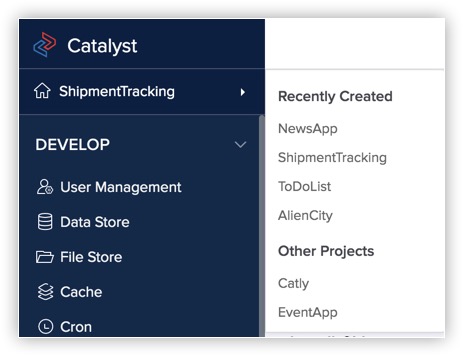 You can return to the index page by clicking on the Catalyst logo at the top.
The project's dashboard contains Today's Metrics, Install CLI, and Resources sections.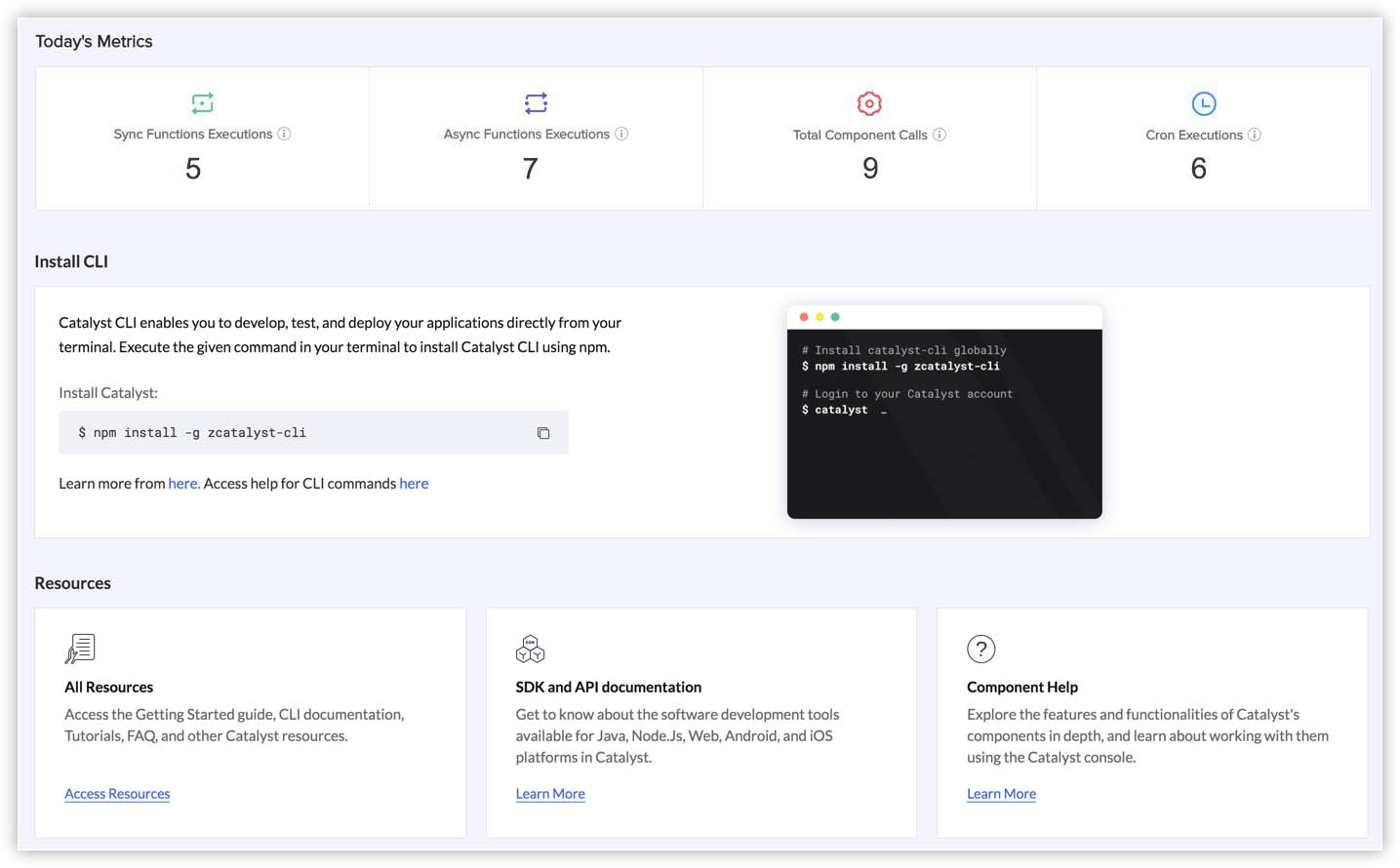 The Today's Metrics section displays these usage information about your project:
Sync Functions Executions: Number of synchronous functions that have been executed on the current day.
Async Functions Executions: Number of asynchronous functions that have been executed on the current day.
Total Component Calls: Total number of component calls made from functions on the current day.
Cron Executions: Number of cron jobs executed on the current day.
The Install CLI section provides the terminal command to install Catalyst CLI in your local machine. For more information, refer to the Installing Catalyst CLI help page.
You can use the environment drop-down list in the top-right corner to switch between the development and production environments in Catalyst. You can learn about using Catalyst in both environments from the Environments help page.

You can find notifications common to all your projects by clicking the notifications icon. You will receive notifications about the status updates of the following events in a project: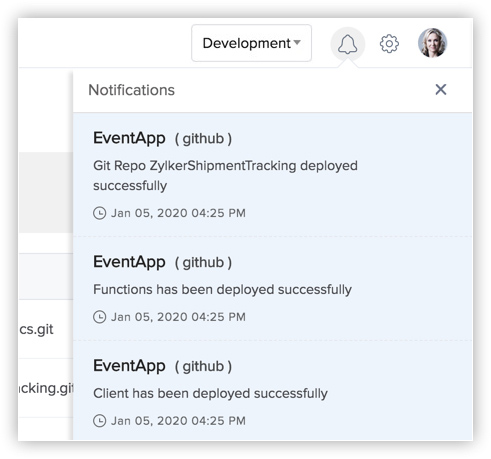 You can customize your Catalyst project features from the settings. We will discuss the settings in the Setting up a Catalyst Project section. 
You can access your Zoho user information by clicking on the display picture in your account. You can also find your unique Catalyst user ID here.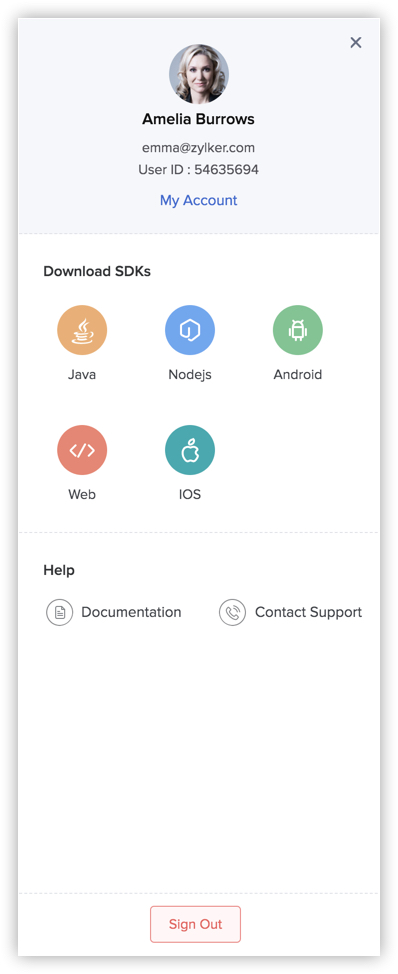 When you click My Account you will be redirected to your Zoho accounts page from where you can customize your Zoho account information. 
This menu also contains links to download various SDKs that you can use in your application. Refer to Developer Tools settings section for details, where you can also download the SDKs for your project.